Welcome To Angel & Acorn Boutique with Nylara Knits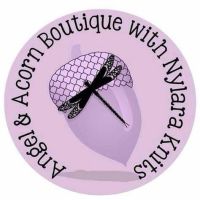 *Covid-19 Update*
The Bricks and Mortar Shop is currently closed due to govenment lockdown for all non-essential businesses. We will re-open on Wednesday 3rd December at 9.30am.
We are currently offering a free click & collect service and free local deliveries on orders over £10.
All Knit & Natter Sessions and Courses are currently suspended due to current govenment restrictions.
Please adhere to all safety measures in place when visiting the shop & wear a face covering inline with current Covid-19 rules.
**All orders on the website are still being processed & despatched. Thank you for your support during this time. Lisa & Sheena.**
Family run business based on the High Street in Standish, Wigan.
Stockists of James C Brett, King Cole, Stylecraft, Rico, West Yorshire Spinners with specialist Hand-Dyed Yarn from Siobhancrafts.
Find us on Facebook & Instagram!
*Full Knitting Sevice also availble! Contact us for further details.
*All orders are sent Royal Mail either first or second class (please select preferance at checkout) . Postage is free on orders over £30*